In California, 1 in 6 people struggle with hunger.1 The 2012 Hunger Index shows that there were 204 million missing meals—mealtimes when children, families, and seniors went hungry in Santa Clara County and San Mateo County.2 With excess food to feed our communities, no one should go hungry in Silicon Valley. It's not about producing more, it's about wasting less. In September 2015, we held a press conference with the City of San José and Waste No Food, announcing Feeding Silicon Valley. We are proud to kick off this collaboration with nonprofits and donors, including Team San José, Levi's Stadium, Martha's Kitchen, and Salvation Army. We need your help to battle hunger, reduce food waste and connect excess food to communities in need through Feeding Silicon Valley.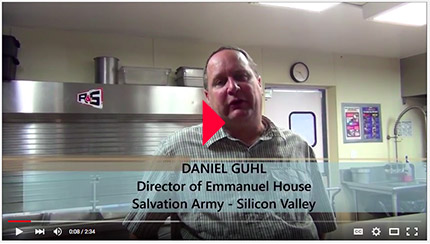 Food donors, nonprofit recipients, and volunteers (food runners/drivers) can sign up on the Waste No Food app on Google Play, iTunes, or online at www.wastenofood.org. The app generates no income. Over 38,000 lbs have already been donated using the Waste No Food app to Martha's Kitchen, Salvation Army, City Team, Bill Wilson Center, InnVision Shelter Network, Family Supportive Housing and the Ecumenical Hunger Program. This has resulted in a reduction of over 37,000 pounds of CO2 emissions. Results were calculated using the Whole Earth Calculator from Rock & Wrap It, which was endorsed by the White House Council on Environmental Quality.
Developed by SJSU student Jamilia Jernigan with code from Code for America.
PRESS & MEDIA
View the press kit, watch videos of our partners on the story of Feeding Silicon Valley, and view the video of the Press Conference announcing Feeding Silicon Valley. We were featured in San José Inside, The Intersector Project, Route Fifty, KTSF 26 (English, Chinese) Spartan Daily, and ABC 7.
Sources:
1 "Map the Meal Gap" Feeding America, 2013. http://www.feedingamerica.org/hunger-in-america/our-research/map-the-meal-gap/
2 Source: 2012 Hunger Index by Santa Clara University and Second Harvest Food Bank. http://www.shfb.org/hungerindex