12 February 2017
Meal services extended to Nevada County for Oroville Dam evacuees
February 13, 2017
Sydney Fong | sydney.fong@usw.salvationarmy.org | (916) 563-3731
---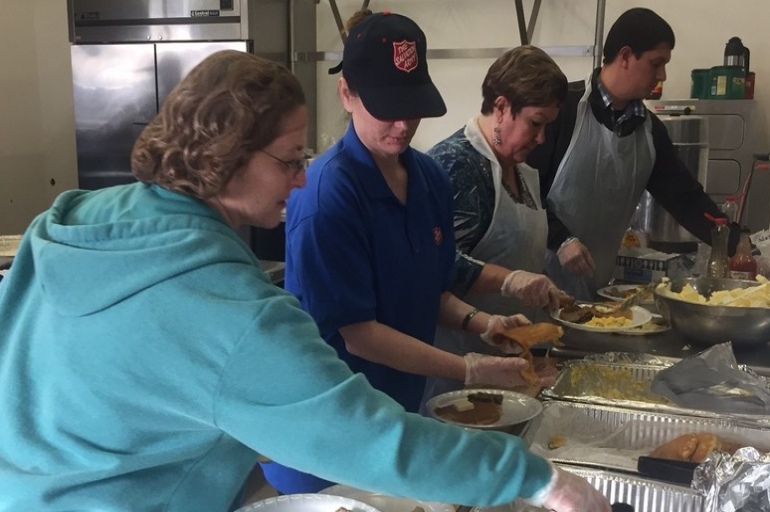 Latest Update:
As of last night, we've served about 5,000 meals at four separate locations -- three for evacuees and one for first responders. We'll continue service for the next 24-48 hours, and possibly beyond, depending on how the situation continues to unfold.
Official Evacuation Centers for Residents
Nevada County Fairgrounds in Grass Valley

Silver Dollar Fairgrounds in Chico

Placer County Fairgrounds in Roseville

Butte College (Oroville) (assisting at the scene)
Red Map Markers indicate a Salvation Army Feeding Center.
Blue Map Markers indicate evacuated cities.
SACRAMENTO, CA—Along with the meals being currently served in Chico, The Salvation Army will also start meal services at another evacuation center, the Nevada County Fairgrounds, for residents who have been evacuated due to the erosion of the Oroville Dam.
Crews from Auburn, Grass Valley and Hayward will assist the Nevada County Fairground scene.
Salvation Army Emergency Disaster Services management will continue to assess the needs of the situation and will have other units on standby to possibly support other affected areas.
Meal services at evacuation centers
Silver Dollar Fairgrounds--2357 Fair St, Chico, CA 95928
Nevada County Fairgrounds--11228 McCourtney Rd, Grass Valley, CA 95949
Donation Information
Monetary donations are only needed at this time. The Salvation Army uses 100% of disaster donations in support of local disaster relief operations.
To give, visit www.gosalarmy.org or call 1-800-SAL-ARMY (1-800-725-2769) and designate "Oroville Response". Donations by mail may be designated "Oroville Response" and sent to:

The Salvation Army
PO Box 348000
Sacramento, CA 95834
In-kind donations are not currently being accepted outside the disaster area. However, these gifts are vitally important to your local Salvation Army. To give items locally, visit www.SATruck.com or call 1-800-SA-TRUCK.
About The Salvation Army
The Salvation Army, an evangelical part of the universal Christian church established in 1865, has been supporting those in need in His name without discrimination for 130 years in the United States. Nearly 30 million Americans receive assistance from The Salvation Army each year through the broadest array of social services that range from providing food for the hungry, relief for disaster victims, assistance for the disabled, outreach to the elderly and ill, clothing and shelter to the homeless and opportunities for underprivileged children. 82 cents of every dollar spent is used to carry out those services in 5,000 communities nationwide. For more information, go to www.salvationarmyusa.org.